tarot
Tarot multi rotor UAV/four axis/lateral folding TL4Q770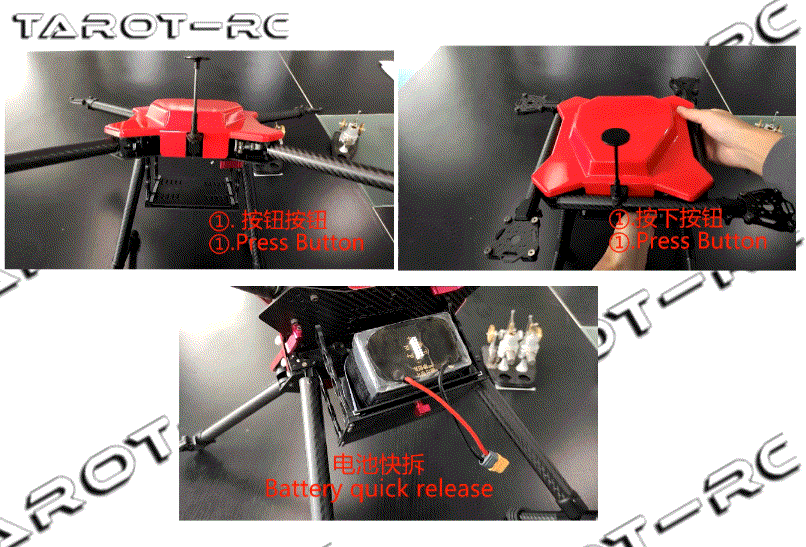 Product description:
The new folding four axle model produced by Tarot has a new horizontal folding self-locking design instead of the usual umbrella folding structure, which greatly improves the convenience of installation and transportation. The oversized shelf design is used to facilitate the installation of various electronic equipment; Quick horizontal folding arm, easy to carry; Pull type battery compartment design, fast battery installation; The shock absorber motor base can reduce the influence of motor vibration on center flight control; The split metal three-way electric tripod firmly bears the stability of the frame on the ground; With optimized configuration, the hover time can reach 50 minutes.
Recommended configuration:
Motor: 6S 4114 320KV
Electric adjustment: 40A/Tarot Haoying customized version/XRotor-Pro-40A TL2930
Blade: Martin 17 inch 1755/Tarot TL2948
Battery: 22.2V 15000mAh
Takeoff weight: 3.4KG
Hover time: 40Min
Product parameters:
Net weight: 1.70KG
Symmetrical motor wheelbase: 770mm
Center plate diameter: 190mm
Landing gear clearance: 256mm
Distance between motor mounting holes: 16mm diagonally; 19 m diagonally; Symmetrical quadrilateral Φ 25; equilateral triangle Φ 32
Product specification:
TL4Q770 boxed machine ×1
Your cart is currently empty.